CLADS (Chew Lake Association of Disabled Sailors) has been in existence since 1991 and was started by two very enthusiastic sailors from the main sailing club at Chew Lake, Bristol.
Initially an old boat (a Challenger class Trimaran) was donated to us by the Royal Yachting Association (Sailability) which was a welcome start and over time the club has gone from strength to strength with members, helpers, boats and facilities all growing.
Latest posts:
Covid 19 Coronavirus
Given the recent developments with Covid 19 Coronavirus, and inline with Government advice, the start of the CLADS 2020 season with be delayed until further notice. This also means the A.G.M. will be delayed until further notice. The current committee will remain until an A.G.M. can be called, as soon as it is safe to do so.
If we are able to start up CLADS again later this year then we will calculate membership renewal based on the remaining number of sailing days available. As a result all current members will hold their current membership status until the A.G.M.
October 5th 2019 Sailing, November 23rd Social Lunch
It is confirmed that October the 5th 2019 will be the final sailing day for this season
Social Lunch - 12:00 on 23rd of November 2019
We hope all members, friends and family will be able to join us for an end of season social lunch at the:
Blue Bowl Inn
Bristol Road,
West Harptree,
Somerset BS40 6HJ
Please refer to the October Newsletter for details of booking, selecting choices and paying in advance.
We MUST know numbers and all menu choices and have received payment by Saturday the 16th of November so we can send the details to the Blue Bowl.
If you need more information then please email Lisa at: social@clads.co.uk
BBQ still going ahead, but no sailing, August 10th 2019
Due to the bad weather forecast for this weekend the CLADS BBQ will be going ahead, however CLADS sailing will be cancelled.
Due to the lift still out of action we will be eating downstairs in the training room. You should aim to arrive at the club between 11:30 and 12:00 and we will aim to start eating between 12:00 and 13:00.
The BBQ is only available to advance bookings only, no tickets available on the day.
Start of 2018
Well this first month of our 2018 season has passed.  For most Saturdays we had lovely hot sunshine, which sadly meant virtually no wind.  However many of our sailors took to the water with great optimism, and managed the odd leisurely drift, a few thermals created a for short puffs as the days progressed.
The final Saturday in May was much better, with some proper sailing wind at last.  Though we had to reef at first this did not stop some very enjoyable sailing.
Do you have a disability and would like to find out more about Sailing with CLADS?
If so then check out our page: Joining as a Sailor.
Would you like to get involved as a helper with CLADS?
Check out our page: Joining as a Helper.
TrueSpeed Charity Event 29th November 2017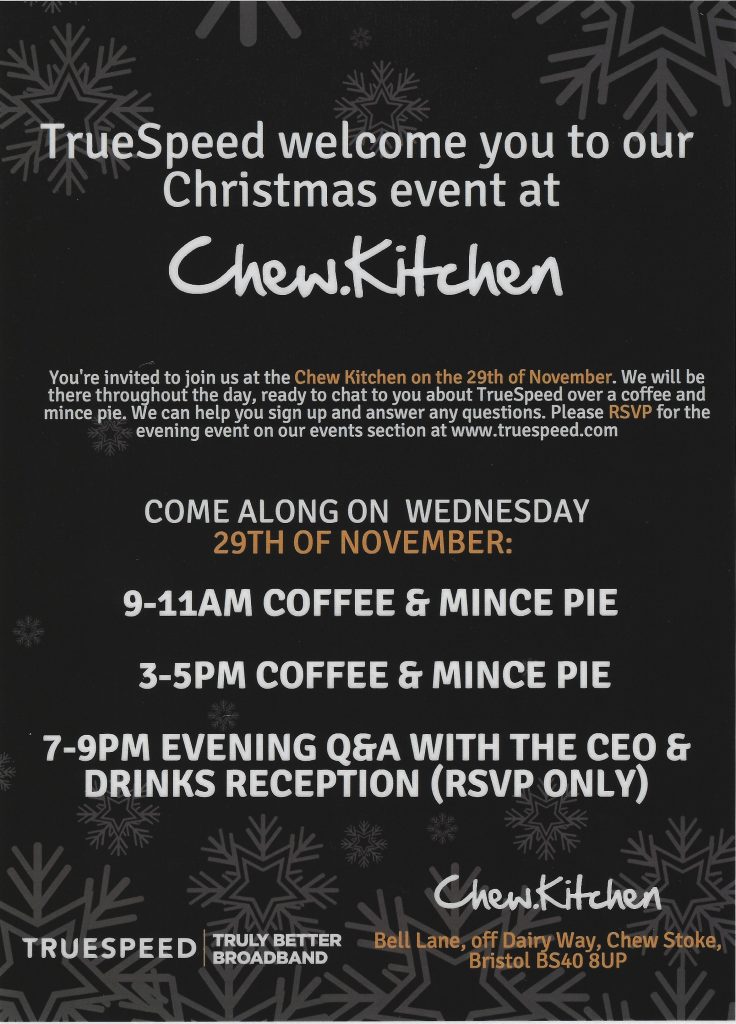 A special festive event designed specifically for the residents of Chew Stoke, Chew Magna, Pensford, Publow and Belluton, TrueSpeed and Chew Kitchen have teamed up to host an evening to remember!
---
Taking place at the renowned Chew Kitchen, guests are warmly invited to join us for an evening of festive cheer and a talk from our CEO Evan Wienburg about how TrueSpeed are investing in the communitites by bringing ultrafast, reliable broadband to the areas.
---
Starting at 7pm, guests will be welcomed into a Christmas themed Chew Kitchen with a warming mulled wine. Evan's talk will take place at 7.30pm and will be followed by a drinks reception including mulled wine, canapes and mince pies all hand made by Chew Kitchen chefs.
---
TrueSpeed staff will be there throughout the evening to answer any questions and meet and greet the local community. We are also proudly supporting the Chew Lake Association Of Disabled Sailors, by hosting a charity raffle where guests can purchase tickets to win a luxury Christmas Hamper and all proceeds raised will go to the local charity.
---
Due to the capacity of the venue, to attend you will need to RSVP by registering for your place via Eventbrite. So, if you live in either Chew Stoke, Chew Magna, Pensford, Publow or Belluton and have yet to sign up for TrueSpeed, register for your FREE ticket at 
www.chewkitchenevent.eventbrite.co.uk
 and we very much look forward to seeing you there!