CLADS (Chew Lake Association of Disabled Sailors) has been in existence since 1991 and was started by two very enthusiastic sailors from the main sailing club at Chew Lake, Bristol.
Initially an old boat (a Challenger class Trimaran) was donated to us by the Royal Yachting Association (Sailability) which was a welcome start and over time the club has gone from strength to strength with members, helpers, boats and facilities all growing.
Latest posts:
Start of 2018
Well this first month of our 2018 season has passed.  For most Saturdays we had lovely hot sunshine, which sadly meant virtually no wind.  However many of our sailors took to the water with great optimism, and managed the odd leisurely drift, a few thermals created a for short puffs as the days progressed.
The final Saturday in May was much better, with some proper sailing wind at last.  Though we had to reef at first this did not stop some very enjoyable sailing.
Do you have a disability and would like to find out more about Sailing with CLADS?
If so then check out our page: Joining as a Sailor.
Would you like to get involved as a helper with CLADS?
Check out our page: Joining as a Helper.
TrueSpeed Charity Event 29th November 2017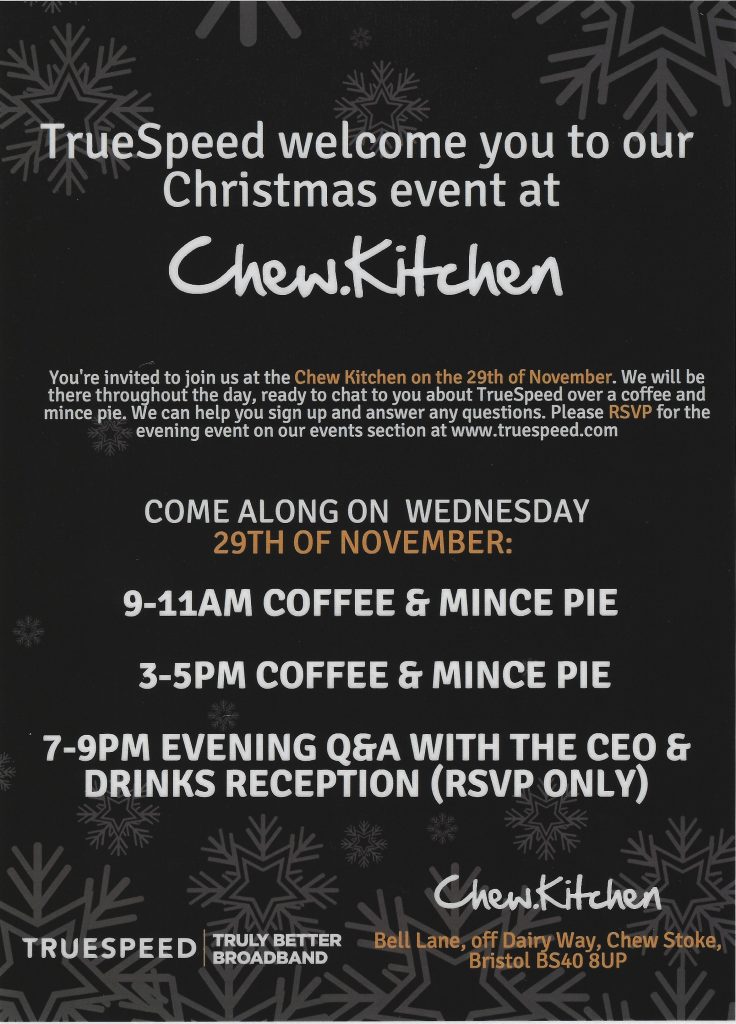 A special festive event designed specifically for the residents of Chew Stoke, Chew Magna, Pensford, Publow and Belluton, TrueSpeed and Chew Kitchen have teamed up to host an evening to remember!
---
Taking place at the renowned Chew Kitchen, guests are warmly invited to join us for an evening of festive cheer and a talk from our CEO Evan Wienburg about how TrueSpeed are investing in the communitites by bringing ultrafast, reliable broadband to the areas.
---
Starting at 7pm, guests will be welcomed into a Christmas themed Chew Kitchen with a warming mulled wine. Evan's talk will take place at 7.30pm and will be followed by a drinks reception including mulled wine, canapes and mince pies all hand made by Chew Kitchen chefs.
---
TrueSpeed staff will be there throughout the evening to answer any questions and meet and greet the local community. We are also proudly supporting the Chew Lake Association Of Disabled Sailors, by hosting a charity raffle where guests can purchase tickets to win a luxury Christmas Hamper and all proceeds raised will go to the local charity.
---
Due to the capacity of the venue, to attend you will need to RSVP by registering for your place via Eventbrite. So, if you live in either Chew Stoke, Chew Magna, Pensford, Publow or Belluton and have yet to sign up for TrueSpeed, register for your FREE ticket at 
www.chewkitchenevent.eventbrite.co.uk
 and we very much look forward to seeing you there!